UPDATE DOS:
MAH BURANDO IS GREEN JUS LIKE MAH MONEY AHAHAHA.
A CHALLENGER APPEARS:
You know on second thought, I'd probably be done by now if I'd stop taking the time to update wips what the fuck am I doing.
-----------
UPDATE:
Man I hate picking out colours. :I
Also I don't think there's any way in hell I'll finish this today ahahaha. ;; Ah well.
-----
cropped wip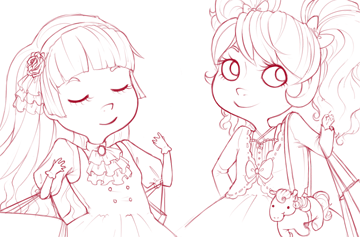 There's a 3rd loli involved, but here are the two snobby ones.
I'm totally lost on what to do with the right-one's hand. :I Swear to god it's the only thing keeping me from finishing her lines ahaha.
This is taking way too freaking long auuuugghhhhghghgh. I think I'm just nervous of how it will be recieved because of the amount of traffic the sales comm gets ohjesus my anxiety.
Working on a new egl_comm_sales banner. Cause the old one is fucking atrocious omg who drew that ugly as sin thing. (;;)