So I finished this pain in the ass a few days ago, so uh, here ya go I guess.
The goth/classic chick is holding a MMM bag and a VM bag, and the sweet loli has a BABY and AP bag, but I decided to forgo logos because
I'm lazy
copyrights or something yeah that's it.
The goth/classic loli was easy to figure out colour-wise, since it's the two styles I'm into, and I currently have this wine/burgundy fetish. The sweet one was more difficult though, and I went through a few revisions, like she had a split colour wig and was originally supposed to wear whitexpink, instead of mint. Really the only reason I went with mint was because I wanted the poor loli in the back to be wearing pink, since it's the 'default' sweet colour.
The poor loli is supposed to represent the typical beginner loli. Still not quite used to the price of burando, plainer co-ord, no wig or grasp of make-up, and probably bought that (used) jsk because it was in her budget, even though it's plain and doesn't fit her too well. (WHICH I AM GUILTY OF haha) That purse probably came from F21.
The jsk she's eyeballing was drawn to look like my first brand piece from BABY. (except mine was in the black colourway)
Derpy chan makes a cameo, since he is fabulous. He belongs to the ingenious Amenoo (
http://amenoo.deviantart.com/
) and...and I really hope she doesn't mind me shoving him in here haha ohman now that I think about it, I probably should have asked first ffffff. ;;;;;;
He doesn't even really match with anything on that girl, that's just how great he is.
OBLIGATORY REACTION IMAGE: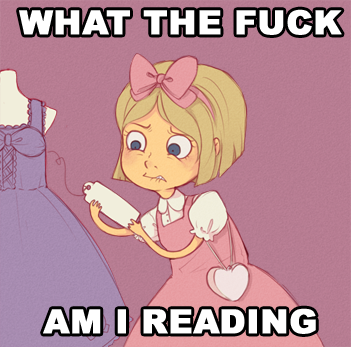 I need to make more later haha.
Radical.